Keto Lunchables are a quick, healthy, and balanced lunch on the go. Perfect for workday meal prep!
Remember the Lunchables you used to beg for as a kid? The prepackaged lunches with crackers, perfectly round slices of ham or cheddar, cheese, and a dessert? These Keto Lunchables are the adult version of those quick and easy lunches.
There are many options when it comes to these Lunchables but I'll share two of my favorites today – Turkey Keto Lunchables and Ham Keto Lunchables.
The main "recipe" for a perfect keto Lunchable is a protein, a cheese, a keto fruit, and an extra.
For the Turkey Keto Lunchable, I used turkey, Babybel cheese, blackberries, and almonds. You can substitute the Babybel for the cheese of your choosing, of course.
For the Ham Keto Lunchable, I went with ham, mozzarella stick, blueberries, and an avocado. The avocado is the only part of these keto Lunchables that doesn't meal prep well, so I usually keep it separate and just add in a quarter or half an avocado in the morning.
The most important part is to properly weigh out each portion to ensure you're keeping an appropriate carb ratio.
I like to prep a few of these Keto Lunchables and keep them in the fridge for a grab-and-go lunch or snack. The only thing that won't last for a day or two is the avocado, so I keep that separate and add it in just before leaving the house.
While I designed these Keto Lunchables to include a good bit of protein, my husband claims these are more of a snack than a lunch. If I've had a filling breakfast, I find that one of these ham keto Lunchables is plenty to hold me over in the afternoon, but they are definitely considered a light lunch.
Then again, when was a traditional Lunchable ever enough to be truly filling?
My kids, on the other hand, love these keto Lunchables – especially the turkey keto Lunchable. Sometimes when I'm making these for the kids I'll throw in some keto crackers so they get a more traditional build-your-own Lunchable experience as I know that was my favorite part of eating Lunchables as a kid.
My next mission is to figure out how to recreate the popular pizza Lunchable, as that seems to be the one my kids want every time we go to the store. Though I've gotta admit, I have never understood the joy of constructing a pizza that you eat cold and I'm not a big fan of the flavor or texture of pizza Lunchables. However, when recreating it as a keto Lunchable, I think it may be the perfect opportunity to use cloud bread or 90-second bread, and pair that with a keto marinara and some mozzarella.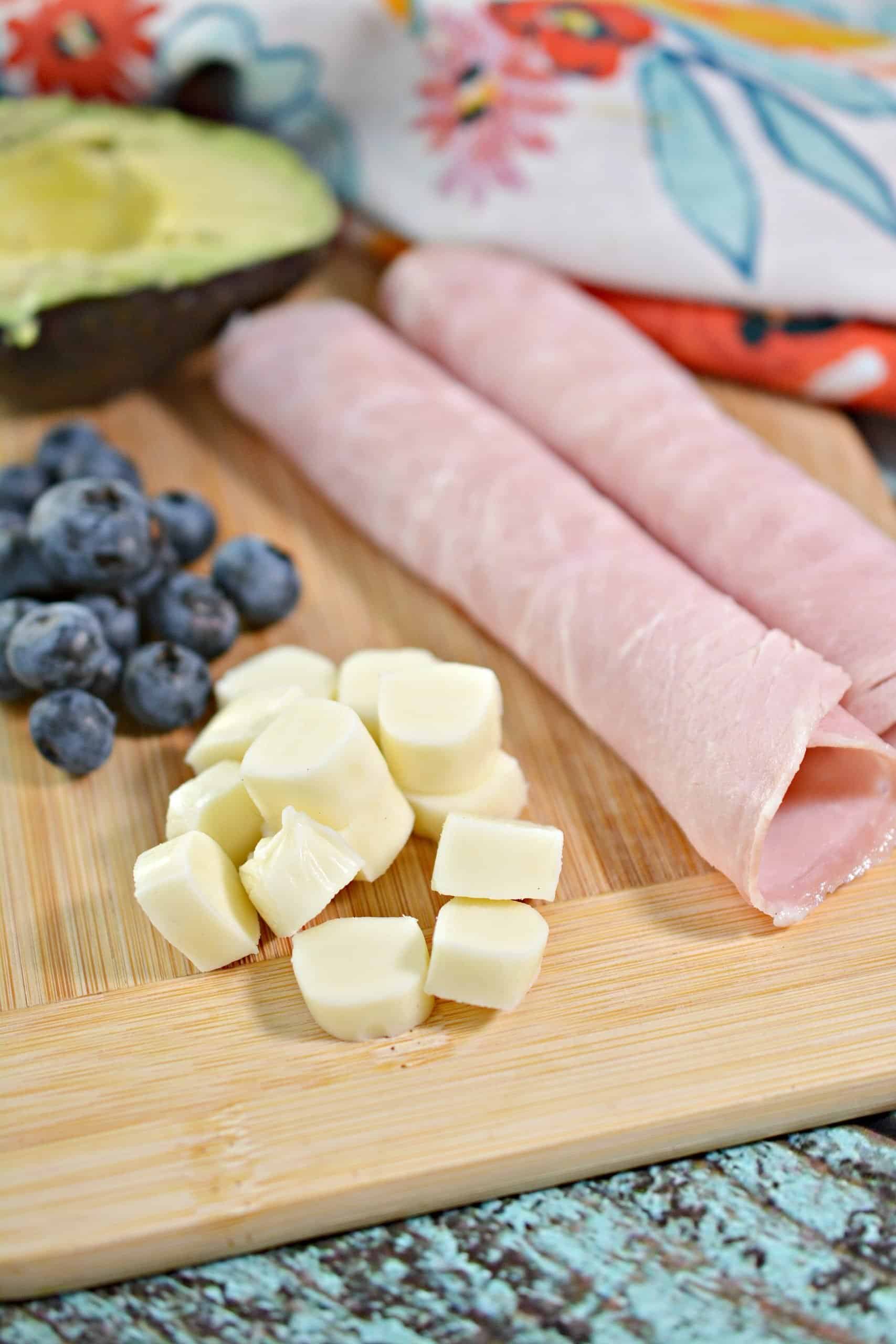 How To Make Keto Lunchables
Measure out each ingredient and place it in an airtight container. Keep in the fridge until you're ready to grab-and-go!
What variations can I make to these keto Lunchables?
So many! As I mentioned, the guidelines I've provided are just a starting point for making your own keto Lunchable. I've provided the outline of what I put in ham keto Lunchables and turkey keto Lunchables but the possibilities are endless. Switch out the protein, the cheese, the veggies…as long as it's a keto ingredient, you're good to go! Since these are light lunches, I recommend filling them with high-protein ingredients. You can even use fathead dough to create a keto pizza Lunchable, which my kids LOVE.
Can I meal prep these keto Lunchables?
Yes! That's one of the best parts of these. I love to meal prep a few and keep them in the fridge for grab-and-go. That said, a few ingredients can't be prepped too far in advance. For the Keto Ham Lunchable, the avocado obviously does not too well for too long. I usually don't prep this part and just slice an avocado in half right before I run out the door. I have a few containers that fit perfectly in the kids' lunchboxes, so I typically meal prep in those for ease.
Are Keto Lunchables a meal or a snack?
Both! For me, these Lunchables, particularly the keto turkey Lunchable, is just enough for a light meal. For the kids, keto Lunchables are perfect for school lunch. My husband, on the other hand, disagrees and says these are more of a high-protein afternoon snack. If you're SUPER hungry, you will probably want a larger meal but for lunch on the go, these are perfect.
Now, remember to save this recipe on Pinterest for later 🙂
Keto Lunchables
Keto Lunchables are a quick, healthy, and balanced lunch on the go. Perfect for workday meal prep!
Ingredients
For the Ham Lunchable:
1

Serving of deli ham slices

¼

c

Blueberries

1

Mozzarella cheese stick sliced

½

Ripe avocado
For the Turkey Lunchable
1

Serving of turkey deli slices

¼

c

Fresh blackberries

1

Mini Babybel cheese

28

Grams

of Almonds
Instructions
Measure or weigh out each of the ingredients for the lunchable, and pack in an airtight container to store in the fridge for an easy on-the-go lunch option.
Notes
Net Carbs: 5-6 depending on ingredients
Looking for more tasty dinner options? Check out these recipes, and you will be so glad you did. Each one is perfect for a keto or low carb diet and tastes great too. Have a look: