Keto Italian Cheese Stuffed Meatloaf takes your grandma's favorite meatloaf recipe to a whole new level.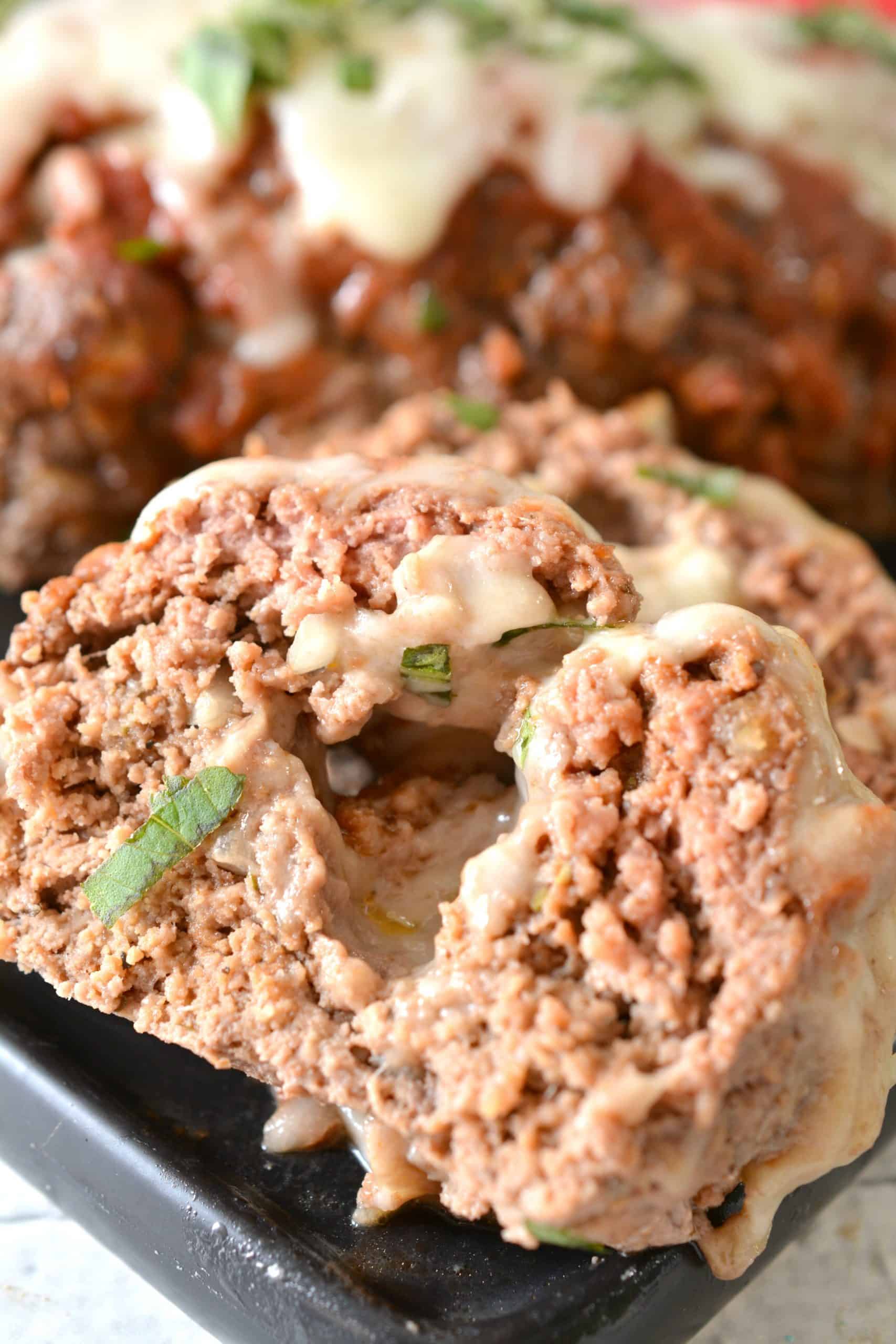 It's interesting to me how certain recipes or foods become attached to memories or emotions. Meatloaf reminds me of grandma's house and Sunday dinners with the entire family. Though those Sunday dinners don't happen often anymore, I can't taste a meatloaf without thinking of those Sundays in my childhood.
It's no surprise that meatloaf has become one of my favorite foods. Luckily, meatloaf is naturally low carb so finding a keto meatloaf recipe wasn't difficult at all. The only carb-filled part of meatloaf is usually the breadcrumbs, which I replaced in this recipe with finely crushed pork rinds. They hold the mixture together without adding any extra carbs.
I decided to take a traditional keto meatloaf recipe up a notch with this Keto Italian Cheese Stuffed Meatloaf.
How? By adding cheese of course!
Each slice of this keto meatloaf is filled with ooey, gooey mozzarella cheese. Keeping with the Italian theme, I also top the meatloaf with low carb marinara sauce and even more mozzarella cheese. Not only is this recipe moister than other keto meatloaf recipes I've tried, but the flavor is also to-die-for too!
Keto Cheese Stuffed Meatloaf is a cheesy Italian delight!
Even better, this is a keto dinner the entire family loves. With simple ingredients, there's nothing for the kids to complain about. non-keto eaters also love it because it's so similar to the meatloaf recipes they know and love.
Keto meatloaf is great for meal prep too! You can freeze this before or after baking. If doing so after baking, stop before adding the mozzarella cheese on top.
In my hometown, meatloaf was one of those dishes that you took to someone's house for any occasion – a welcome gift, a new baby, illness, mourning of a loved one – and I still believe this keto meatloaf is a great alternative to taking along a casserole. It can easily be frozen or saved for later and can feed a crowd.
How To Make Keto Italian Cheese Stuffed Meatloaf:
Step 1. Preheat oven to 350 degrees.
Step 2. Combine ground beef with chopped onion in a bowl.
Step 3. Add in ⅓ cup of the pork rinds, reserving some, and a beaten egg. Make sure the pork rinds are finely crushed.
Step 4. Mix in garlic powder, Italian seasoning, salt, and pepper.
Step 5. Add in tomato paste. Combine all ingredients well, using your hands to evenly distribute all ingredients.
Step 6. Form into 2 oval-shaped rolls.
Step 7. Make a divet down the length of each loaf and fill with mozzarella cheese. Cover with meat once stuffed.
Step 8. Top with marinara sauce.
Step 9. Bake for 30 minutes. Remove from oven and top with mozzarella cheese. Return to oven for 5 to 10 minutes.
Enjoy!
What variations can I make to this Keto Italian Cheese Stuffed Meatloaf?
As we all know, bacon makes everything better so to take this keto meatloaf up a notch, add bacon! You can either add it to the center with the cheese or layer it on top. Another alternative is to add pepperoni to the filling of this keto Italian meatloaf.
Can I prepare this keto meatloaf in advance?
Absolutely! You can prepare this recipe, up to the marinara sauce, early in the day, and leave it in the fridge to just place in the oven and go later. You can also prepare and freeze this recipe.
What's the best way to serve keto cheese stuffed meatloaf?
The best way to serve this keto meatloaf is straight out of the oven when the cheese is melted. Leftovers can be reheated in the microwave if you're in a rush or in the oven. Be careful to not overheat and dry out the meat.
Now, remember to save this recipe on Pinterest for later 🙂
Keto Italian Cheese Stuffed Meatloaf
Ingredients
● 2 lb. Ground beef

● 1 Egg beaten

● ½ c. Pork rind crumbs

● 1 Small onion chopped

● 1 tsp. Garlic powder

● 1 tsp. Italian seasoning

● Salt and pepper to taste

● 3 tbsp. Tomato paste

● 1 ¼ c. Shredded mozzarella cheese divided

● ¼ c. Low carb marinara sauce
Instructions
Preheat the oven to 350 degrees.

In a large mixing bowl, combine the 2 pounds of ground beef with one small chopped onion.

Add in a beaten egg and a ⅓ of a cup of pork rinds that have been made into very fine crumbs. You can break up the pork rinds by placing them in a Ziploc bag, and using a rolling pin to crush them into crumbs.

Mix in 1 teaspoon of garlic powder and 1 teaspoon of Italian seasoning, plus salt and pepper to taste.

Place 3 tablespoons of tomato paste into the bowl, and mix the ingredients together well. You will get the best results by mixing with your hands.

Form the meat mixture into two smaller oval shaped loaves. This will help them cook more quickly and evenly.

Make a divet down the center of each oval loaf of meat. Place a ½ cup of mozzarella cheese into the center of each meatloaf, and close the extra meat up over it, so that the cheese is stuffed into the center of the loaves.

Top the meatloaves with a ¼ of a cup of low carb marinara sauce.

Bake the meatloaves in a casserole dish for 30 minutes. Remove the meatloaves, and top with ¼ cup of shredded mozzarella cheese. Return them to the oven and cook for an additional 5-10 minutes until the cheese is bubbly and the meat is cooked through.