Who doesn't love sausage for breakfast! In our family, it seems with everyone's busy schedules these days, it is so hard to have the whole family around the table, especially in the mornings. These Keto Sausage Breakfast Bites are a perfect grab and go for breakfast on the run. These Sausage Breakfast Bites are perfect for adults and kids alike. So, whether you are on a morning mission and need a quick snack or you have time to enjoy a sit down with the family, this breakfast staple is a perfect meal to put on your table.
The Keto Sausage Breakfast Bites are a great way to start your day with a good protein boost to get you going on the right foot. I personally love these delicious bites at all times of the day. I love to make my own sausage patties with an abundance of seasonings.
My favorite protein is pork, but I also love to mix it up a bit and use chicken and turkey occasionally because they carry the right amount of flavor to satisfy your hunger and taste buds alike. However, there are a lot of keto sausage patties on the market that make these snacks even quicker and easier to put together for your family.
How To Make Keto Breakfast Sausage Bites:
Step One: Add the sausage patties to the skillet and cook to package instructions, removing them when finished cooking.
Step Two: Make sure the heat is set to medium and add some olive oil and place the two beaten eggs to the skillet and completely cooked through – try not to break up the eggs keeping them in one piece. Salt and pepper to taste.
Step Three: Portion the eggs into 4 sections and set aside.
Step Four: Add olive oil and spinach or bok choy to the skillet and cook until wilted. Season with salt, pepper, and garlic powder.
Step Five: Take the sausage patties and make a sandwich with sausage – place one on the bottom and add ¼ slice of cheese, ¼ of spinach/bok choy mixtures, and ¼ of egg mixtures and place the patty on the top and secure with a toothpick in the center of the patties. Repeat this step to a total of 4 sausage breakfast bites.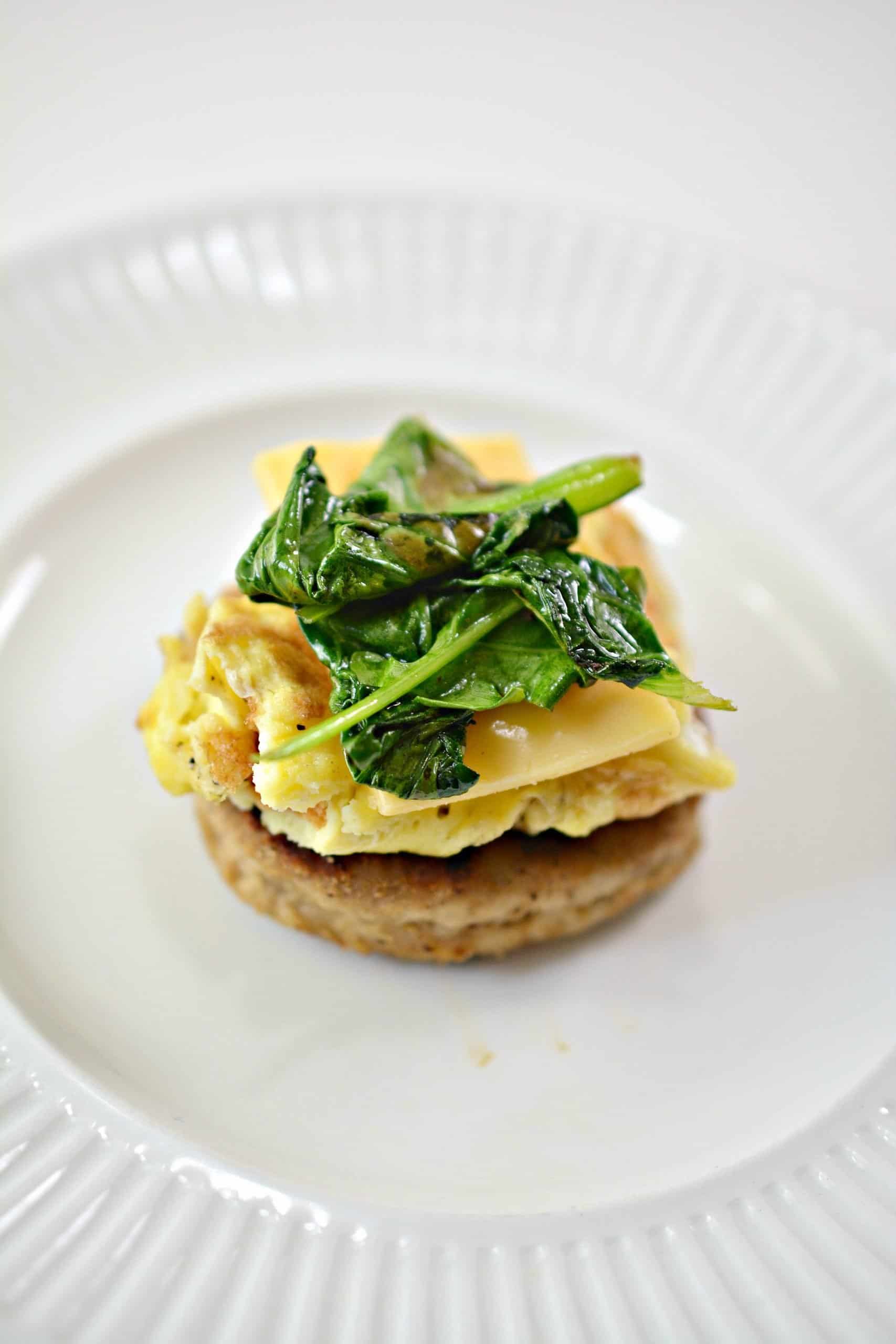 Enjoy!
How Can I Store These Keto Sausage Bites?
These tasty snacks can be stored in the refrigerator for 3-5 days. You can also store them in appropriate freeze containers for up to 3 months. Be sure to thaw completely before heating them when removing them from the freezer.
What Variations Can I Do to Spice Up This Keto Breakfast Sausage Bites?
You can make your own sausage out of pork, chicken, turkey or a combination of all three. I love to add fresh herbs to my taste and even some vegetables such as peppers, onions, and garlic. You can also add fresh tomato to the stack when serving. Another swing on this recipe is to make them "lunch" bites by using beef, pickles, cheese, tomatoes, and bacon. So many variations you can do, just use your imagination.
Now, remember to save this recipe on Pinterest for later 🙂
Keto Sausage Breakfast Bites
The Keto Sausage Breakfast Bites are a great way to start your day with a good protein boost to get you going on the right foot. 
Ingredients
8

small sausage patties

1

slice

of Cheddar or American cheese

2

Egg beaten

Salt and pepper to taste

½

tsp

Garlic powder

1

c

of Fresh spinach or baby bok choy

1

tbsp

Olive oil
Instructions
In a skillet, cook the sausage patties according to the package instructions. Remove the sausage when done.

Place the two beaten eggs into a skillet with a bit of olive oil over medium heat. Cook until completely cooked through, trying to keep the egg as one solid piece. Season with salt and pepper to taste.

Cut the egg into 4 separate sections, and place to the side.

Pour the remaining olive oil into the skillet, and add the fresh spinach or baby bok choy into the skillet. Cook until wilted, and season with salt and pepper as well as the garlic powder.

Place one cooked sausage patty onto a plate, top with ¼ of the egg, ¼ of the slice of cheese and ¼ of the cooked spinach or baby bok choy. Place a second sausage patty on top of the stack, and place a toothpick through the center.

Repeat step 5 to create 4 total sausage breakfast bites.
Notes
Net Carbs: 1 net carb per serving
Don't Miss These Other Best Keto Recipes:
Keto Bread – This Keto Bread, loaded with cheddar cheese, will become a staple in your keto diet.
Keto Jalapeno Cloud Bread – For this Jalapeno Cloud Bread, we took a traditional keto cloud bread recipe and spiced it up with…you guessed, it jalapenos.
Keto Low Carb Mug Bread – It will curb those cravings you have for traditional bread while keeping your carbs in check.