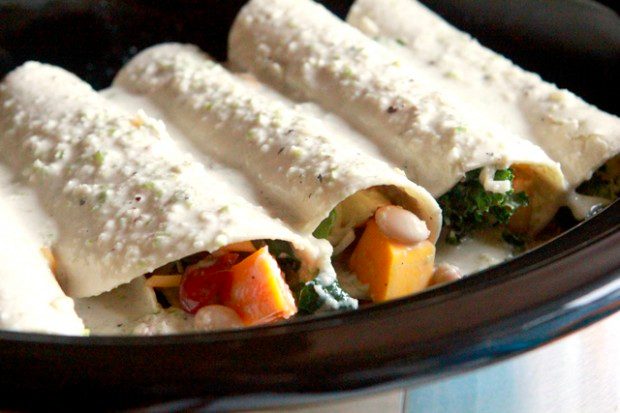 I pushed the envelope too far tonight. Encouraged by the raging success of the Vegan Lasagna, I tossed together some veggie enchiladas this weekend. Butternut squash, red potatoes, kale and white beans were piled high inside white corn tortillas. It sounded so good. It looked even better. A homemade coconut milk chili sauce topped it all of and turned the air into bliss.
Four hours later, the meal emerged from the Slow Cooker and the fam gathered around the table. The kids were willing and able, but not overly excited. The husband peeled his nose back at the meat-free meal offering.
So I'm giving you this recipe, but it's officially being rated a 4 out of 10 on the "Healthy Food Options Families Love" scale. Aye yai yai. That's like getting a C- in science class.
People have been grounded for life for less than this.
The daring filling begins with red potatoes, butternut squash, kale, and white beans. It's really a beautiful way to start a Slow Cooker meal. Each of those veggies stands up well to the slow heat of a crockpot and cooks at the same rate. Which means your left with a filling that isn't overly soft, squishy, or mushy. A+ for that.
The homemade coconut milk chili sauce is the star of this recipe. Even if you decide to feed your husband Chicken and Half-side of Beef Enchiladas, make this sauce. Then pretend the sauce makes him vegan. Because the sauce is magic like that. A+ for that.
A mad sprinkle of cheese cooks up brilliantly on top of the enchiladas. Because you've got the crockpot covered, the cheese stays soft and perfect and doesn't overcook. A+ for that.
So, here we are. At the end of the recipe. Three A+ ratings on filling, sauce, and gooey cheese. So how did we end up with a final C- rating? It's the sheer lack of excitement from the fam, that's what. One of the kids eschewed the butternut squash. Another picked at the kale like it was a mosquito on a hunk of pate. I think I'll try this recipe again with just the white beans and cheese. Then serve it up with spinach salad and a side of roasted butternut squash. Yep. That should swap this recipe from subpar to stellar.
A+ for that.
Slow Cooker Veggie Enchiladas With Cream Sauce
Butternut squash, red potatoes, kale, and white beans stand up well to the slow heat of a crockpot in this easy vegetnarian enchiladas recipe with cream sauce.
Ingredients
For the Sauce:
1

tablespoon

olive oil

1

white onion

finely chopped

6

cloves

garlic

chopped

2

anaheim peppers

deseeded & finely chopped

1

13.5 oz cans coconut milk

2

teaspoons

cumin

2

teaspoons

salt
For the enchiladas:
½

bunch kale

finely chopped

1

15 oz. can white beans

1 ½

cup

butternut squash

cubed

6

small red potatoes

cubed

2

tablespoons

olive oil

salt & pepper to taste

4

cups

mexican blend cheese

15

white corn tortillas
Instructions
In a skillet, heat the olive oil, add the onion, garlic, and peppers. Cook for 3-5 minutes until softened. Add the coconut milk, cumin, and salt. Pour into a blender and puree.

In a large bowl, stir together the kale, white beans, butternut, and red potatoes. Drizzle with olive oil, salt and pepper generously. Mix in 2 cups of cheese.

To prepare enchiladas, immerse the corn tortillas into the warm sauce puree, then spoon veggie mixture into corn tortillas, fold into rounds, then place in a large crockpot which has been lightly greased with nonstick cooking spray. When all the tortillas have been filled and placed in the crockpot, drizzle the sauce over the enchiladas, then sprinkle with cheese. Cover and cook on high for 4 hours.

Serve with fire-roasted salsa and plain greek yogurt if desired.

Enjoy!