Add pecans and butter to anything and you are sure to love the results. These two items will spice up your everyday normal meals and add a flavorful flare most people are sure to love. You are always trying to come up with ways of making your kids eat their green veggies well these Brussel sprouts will be a new low carb "go to" item on your everyday menu and even your kids will love them.
There are so many things you can serve with this versatile side dish. Two of my favorite things to accompany these Brussel Sprouts in Pecan Butter are Slow Cooker Braised Short Ribs with Gravy or Fried Chicken Tenders. Braised Short Ribs and Fried Chicken Tenders are two staple meals for my family and all my dinner guests rave about the amazing flavor these Brussel Sprouts in Pecan Butter add to any dinner plate. They are so easy and quick to whip up. They will also make your guest feel like you went the extra mile for them.
The nutritional benefits of this Brussel Sprouts dish will also be another great reason to serve them to your dinner guests and family. Brussel Sprouts are so high in Fiber, Antioxidant and Vitamins that eating them will provide so many health benefits that we may not even be aware of such as fighting cancer!!!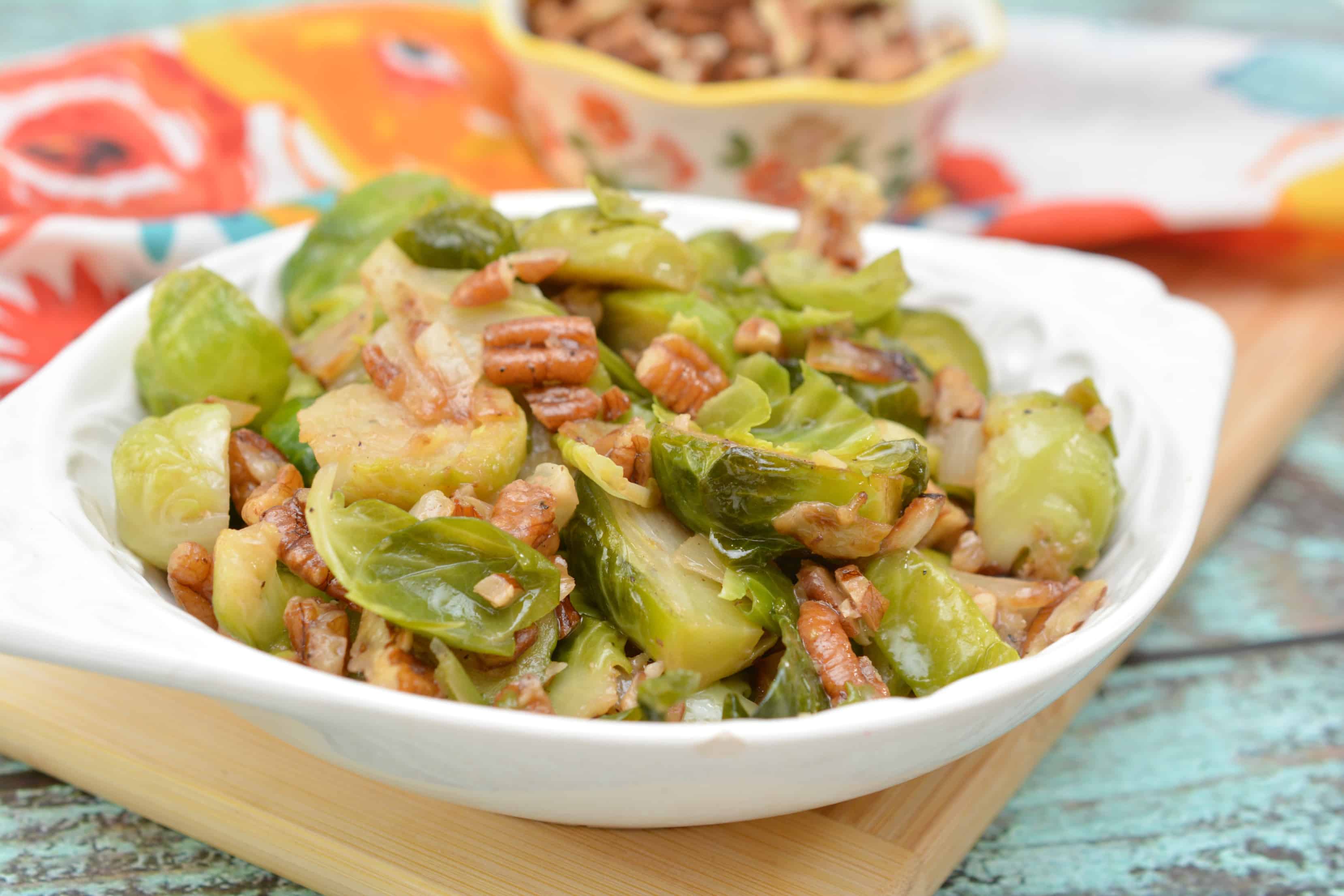 How To Make Brussel Sprouts In Pecan Butter
:
Step One: Heat 2 cups of bone broth over medium-high heat in a saucepan and add 1 pound of Brussel sprouts to the bone broth.
Step Two: Cook the sprouts in the bone broth for 6-8 minutes or until tender but still crispy.
Step Three: Take the Brussel sprouts out of the bone broth, let them cool a little bit, cutting them in half lengthwise.
Step Four: Melt ¼ cup of butter in a skillet over medium-high heat.
Step Five: Cook the onions until tender over medium-high heat in the skillet, stirring them to coat them with the butter.
Step Six: Put the sliced Brussel sprouts in the skillet with the onions and stir to mix them with the onions and butter. Cook the Brussel sprouts with the butter and onions for 1-2 minutes.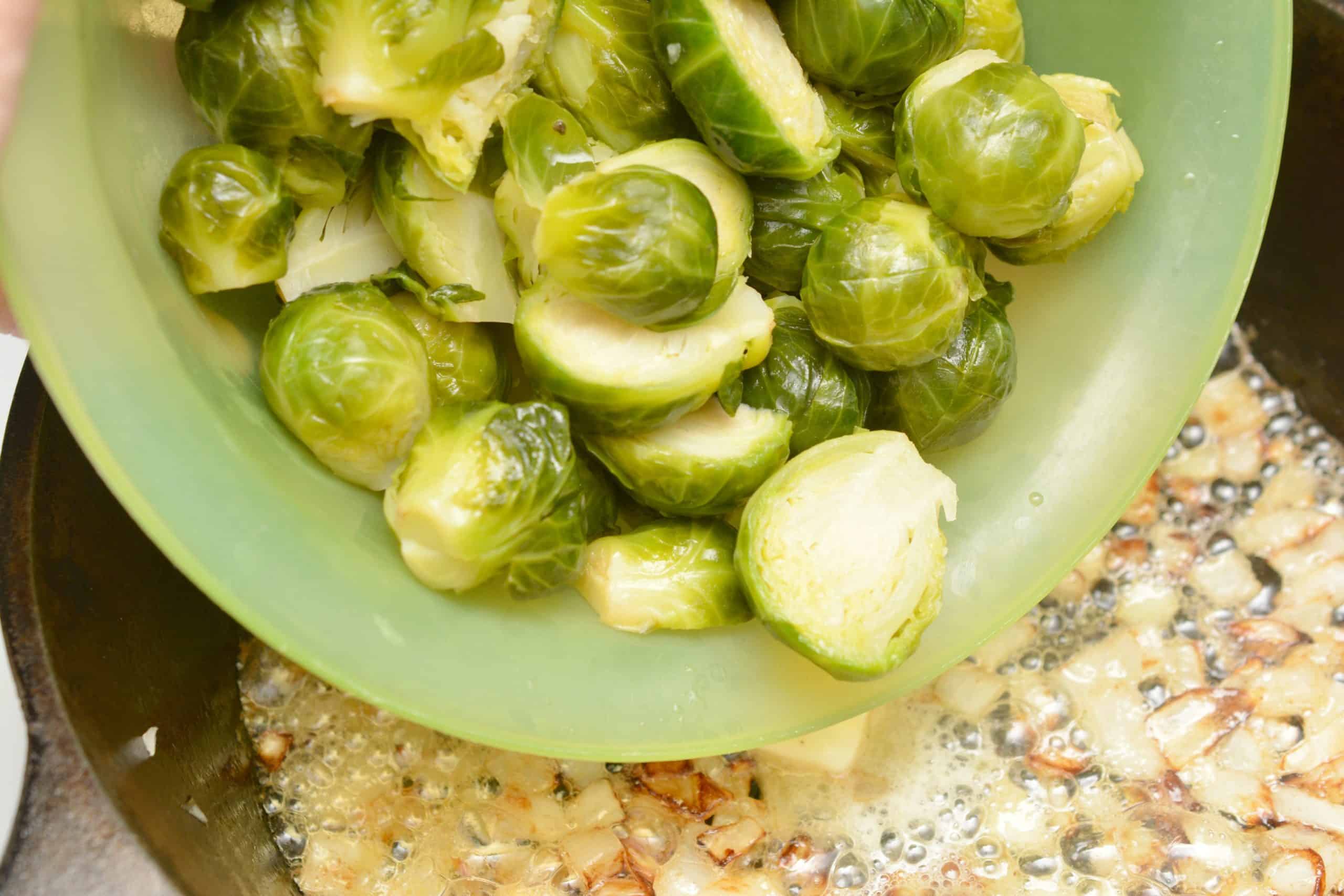 Step Seven: Move the cooked brussel sprouts to one side of the skillet and add the chopped pecan to the side without the brussel sprouts, toast them for 1-2 minutes and then mix the brussel sprouts and pecans together and SERVE!
Enjoy!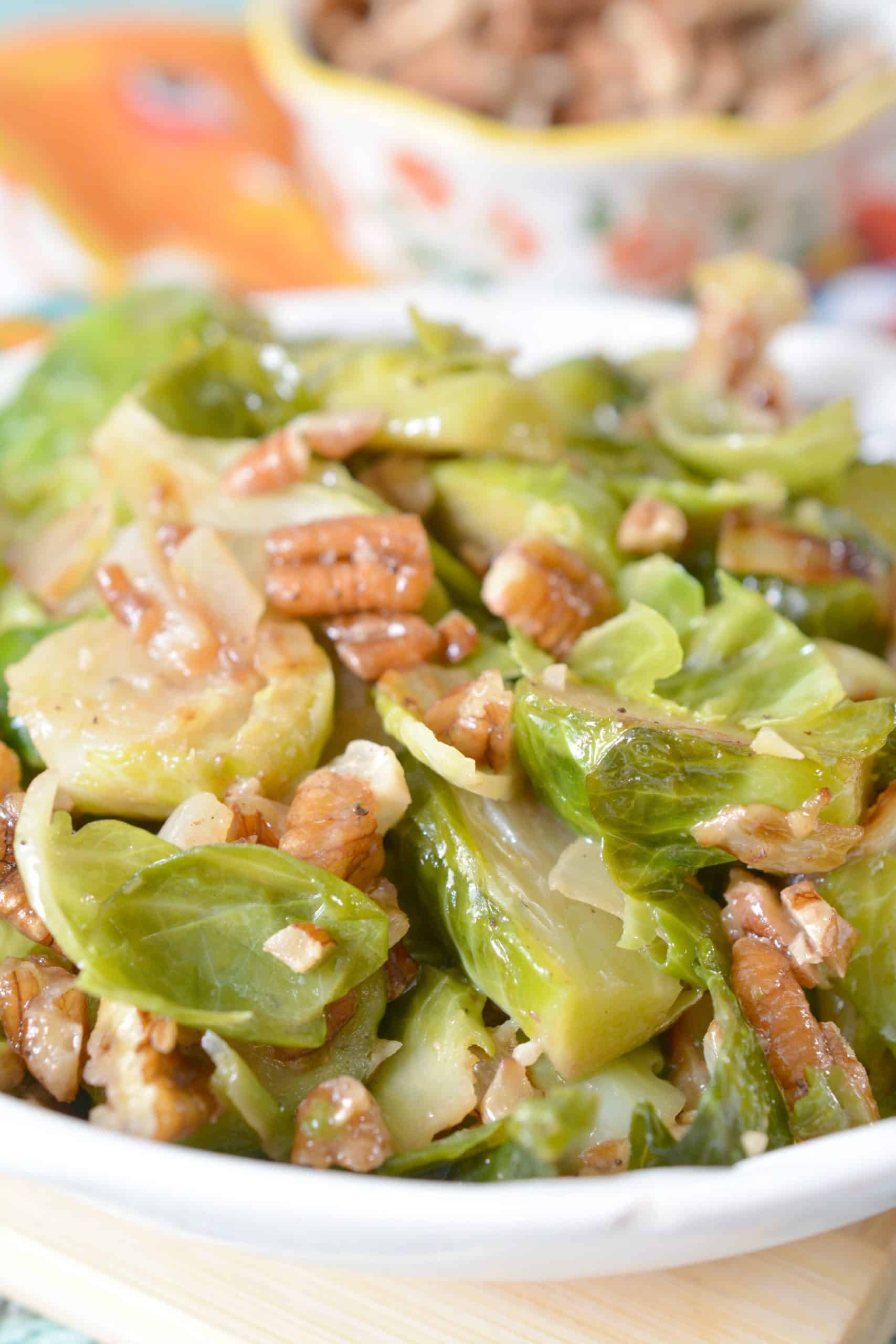 What Other Items Can I Add to This Brussel Sprouts in Pecan Butter?
I have so many favorite items to add to this recipe to "spice it up". One of my favorite items to keep it and get a whole new flavor profile is gorgonzola cheese. I just add it as a garnish, and it gives it a bit of a different flavor. I also love to add the following items when I am sautéing the dish: Sautéed mushrooms crumbled bacon, and chorizo.
Can I Substitute Frozen Brussel Sprouts for Fresh Ones in This Brussel Sprout Recipe?
It may be a little tricky to substitute frozen for fresh sprouts. In general, frozen veggies are blanched for the most part before they are frozen which ups the moisture content in the veggies. In step number one you are technically blanching the brussel sprouts with the bone broth. I would suggest skipping this step if you plan to use frozen brussel sprouts but if you skip this step you are losing some of the flavor you get from the bone broth. Maybe the best thing is to just soak them in the hot bone broth for the 6-8 minutes instead of cooking them. You can also may want to buy IQF (Individually Quick Frozen) brussel sprouts if you plan on using frozen ones. I think you will get a better result. These tend to not be one big frozen lump and thaw better.
Can I Freeze These Brussel Sprouts in Pecan Butter
?
Yes, you can freeze them for up to one month in an airtight container. I suggest thawing completely in the refrigerator and reheating them by adding them to a skillet instead of microwaving them.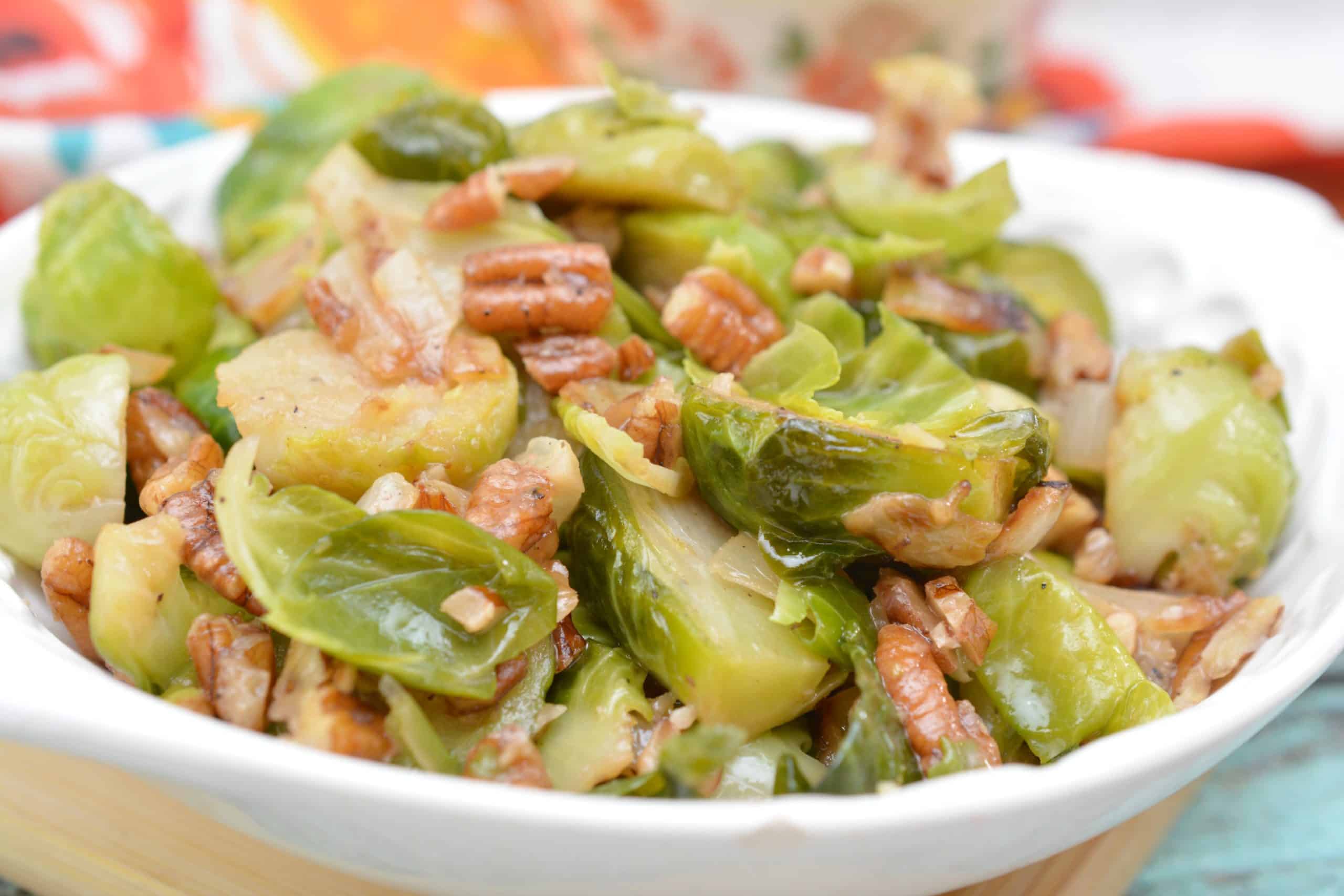 Now, remember to save this recipe on Pinterest for later 🙂
Brussel Sprouts in Pecan Butter
Ingredients
1

lb.

Brussel sprouts

2

c.

Bone broth

Salt and pepper to taste

1

c.

Onion chopped

¼

c.

Butter

½

c.

Chopped pecans
Instructions
Place 2 cups of bone broth into a large saucepan.

Add 1 pound of brussel sprouts to the pan with the bone broth. Cook the sprouts in the broth over medium-high heat for 6-8 minutes until tender, but still a bit crisp.

Remove the brussel sprouts from the liquid, let them cool slightly, and cut them in half lengthwise.

In a skillet over medium-high heat, melt ¼ c. of butter.

Once hot, add the onions to the skillet, and stir to coat in the melted butter. Cook the onions until they are browned and softened.

Add the sliced brussel sprouts into the skillet, mixing to combine them well with the onions. Saute the brussel sprouts for 1-2 minutes.

Push the brussel sprouts over to one side of the skillet, and add the chopped pecans to the empty space. Toast the almonds for 1-2 minutes, and then toss in with the brussel sprouts.