When we sat down to dinner, my little Jacob took one look at the dinner table and asked, "where are the Tamales?" He looked baffled.
The big brother pointed at our giant pan full of hand-rolled, green-chili-and-lentil stuffed tamales and said, "dude, they're right here, duh."
The mom pointed at the big brother and said, "we do not say 'duh' thankyouverymuchmylove."
The little brother sighed, "oh man. I thought we were having those red tamales for dinner."
The little sister giggled, "Hot tamales? You thought MOM was going to feed us Hot Tamales for dinner?"
The little brother said, "Well, yeah. Duh."
The mom tried to avoid making the Sign of the Cross, seeing as how she's not Catholic, but has many times wished she was for the sake of being able to access the Sign of the Cross.
"Oh gracious," she tossed her head back, "Let us pray."
So, you've heard that tamale making is:
1) Terribly time consuming
2) An all-day affair
3) The sort of recipe you attempt only if your kitchen is full of people willing to help
Pish, I say. Vegan tamales take all the time out of the prep steps because you don't have to cook any meat. Canned lentils and pre-made green chili mixes together for a super delish, super snappy filling that will make you wonder why you ever wasted your time on those meat-filled tamales in the first place.
The only other thing left to do with this recipe is mixing up the masa. Traditional masa dough calls for lard.
Ewww. Icky.
We're adding flavor and health value with coconut oil. Granted, coconut oil is still fatty, so you can't go eating these tamales for every meal eight times a week. But, for tonight, you can know that your indulgence comes with the very finest ingredients for your heart and navel.
Once you've got your filling and dough ready, look how easy it is to make homemade tamales….
Just spread some of the dough over a corn husk. You want the dough about ¼″ thick, and make sure you spread it as far across that corn husk as possible. It give you more room for the roll-up.
A little filling. We went for 2 tablespoons of filling, and that worked perfectly with our larger husk pieces. You'll find the husks are all different sizes, so just play the filling amount by ear. Or by sight. Or by whatever you need to make sure it doesn't come gooping out when you're ready to roll your tamale.
Speaking of which…
The roll.
I like to gently roll the left side over the filling, then carefully pull back the husk, leaving a space on that left side to roll the right side of the husk all the way across the filling, and firmly tuck it all inside. Then, pull the left side of the husk over the top of it all, bend in bottom and top edges, and place your finished tamale upside down in a roaster pan which has been fitted with a rack.
Did none of that paragraph up there make any sense? I hear ya. Who WROTE that thing?
Don't have a roaster pan that you can fit with a rack? No worries. Crockpot instructions below. Beware. They were written by the same loon who wrote that paragraph hanging up above us. Holy cow. Why do they let that person out in public?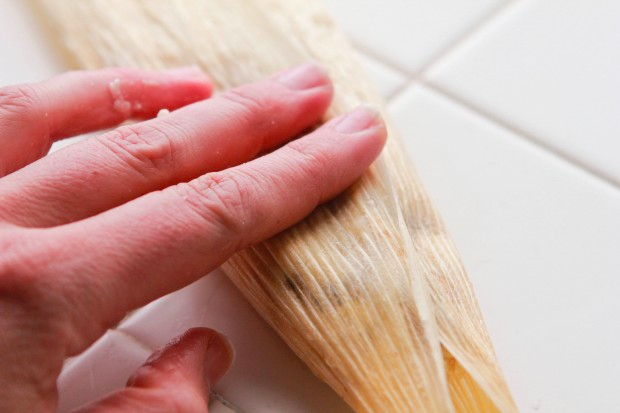 A well wrapped tamale will have the filling and dough completely tucked in, hidden, and ready for steaming.
Once you've rolled all of your tamales and placed them on the rack of a roaster pan, fill the bottom part of your pan with a bit of water, cover it verrrry tightly with several layers of aluminum foil, then "steam bake" them for 34-45 minutes.
When they come out of the oven, they are gorgeous. The husks have browned slightly, the masa has set, all the flavors have cooked and melded together.
Oh you. You are going to freakingholypants love these tamales, duh.
And, yes. Thanks for the reminder.
We don't say duh. Duh.
Homemade Vegan Tamales
Ingredients
For the Filling:
1

tablespoon

olive oil

2

cloves

garlic

finely chopped

½

small onion

finely diced

1

15 ounce can lentils, drained

1

vegan "beef" bouillon cube

½

teaspoon

cumin

1

16 ounce can green chili (I love the stuff from KingsChefDiner.com)

½

cup

frozen sweet corn
For the Tamale Dough:
4

cups

masa

2

teaspoon

baking powder

1

teaspoon

salt

1

cup

coconut oil

melted

3

vegan "beef" bouillon cubes dissolved into 3 cups of water

1

16 ounce package dried corn husks
Instructions
Soak the corn husks in a large bowl of warm water while preparing to cook the tamales. Heat the oven to 400 degrees.

In a large skillet, heat the olive oil over medium high heat. Toss the garlic into the hot oil, then add the onion and cook for about a minute. Toss int he lentils, bouillon cube and cumin. Stir to mix well. Add the green chili and corn. Remove from the heat and set aside.

In a large bowl, mix the masa, baking soda, and salt together. Add the coconut oil. Stir well. Add the bouillon flavored water to the mix. Add more water, if needed, to make the masa a soft, spongy dough.

Smooth the masa onto your largest corn husks until about ¼"-½" thick. You want it to cover about a 3" square of the husk, if possible. Place 1-2 tablespoons of the lentil filling into the center of the masa dough. Fold the sides of the corn, then fold the top and bottom of each husk down. Set the tamale bottom-side-down in a large roaster pan, fitted with the rack on the bottom of the pan. (If you need to wrap the tamales rolled in smaller corn husks with a second or third husk, or even tie some of them together with a small piece of husk, go for it! This is an imperfect science!)

Once all of your tamales are ready, pour approximately 2 cups of water into the bottom of your roasting dish. Make sure the water doesn't touch the tamales, they should be propped safely on the rack. Cover the pan tightly with several sheets of aluminum foil, then place in your preheated oven and cook 35-45 minutes, or until the tamale dough appears to have cooked. Remove the tamales from the oven and allow them to set untouched for 15-20 minutes before serving.

Serve with pan-sauteed zucchini and enjoy!

Crockpot instructions: Pile wrapped tamales in a crockpot, cover and cook on high 5-6 hours, or until the tamale dough is set. Remove the lid 15 minutes before serving, unplug the crockpot and allow them to cool and set before feeding your masses.

Enjoy!