Keep these Keto Creamy Shortbread Fat Bombs in the freezer for the days you're craving something sweet and creamy!
Keto Creamy Shortbread Fat Bombs are inspired by my favorite cookie – shortbread cookies. In this easy keto fat bomb recipe, I take my favorite flavors from the cookie and turn it into an equally delicious, creamy high fat treat.
As I mentioned in my last keto fat bomb posts, fat bombs were one part of the keto diet it took me a while to get around. They're so decadent, usually sweet, and creamy that it was hard for me to accept they were part of a healthy diet.
Now, keto fat bombs, included these delicious shortbread fat bombs, are a part of my keto diet. Fat bombs are pretty universal in when they can be eaten – as breakfast, as a snack, pre- or post-workout, whenever you want. They're quick, filling snack and provide a high energy boost of fat when needed, part of the reason they're so popular as a workout snack.
I eat a fat bomb once every day or two so I like to keep some in the freezer at all times. I don't have a particular time of the day to enjoy them but tend to grab one when I need a snack and am craving something sweet. If I'm craving something sweet but not chocolate, these Keto Creamy Short Bread Fat Bombs are my go-to. I usually keep these and the chocolate almond fat bombs in the freezer.
The best part about keto fat bombs is that they're so easy to make and most have the same base ingredients, it's just a matter of customizing them.
The first fat bombs I made that turned me into a fan were the Keto Chocolate Almond Fat Bombs. I needed a switch from the chocolate, which is how I landed on these Keto Shortbread Fat Bombs. The flavor base is vanilla and almond, with a crunchy layer of crushed almonds on the outside. As far as fat bombs go, it's light and refreshing, even if it's sweet and creamy.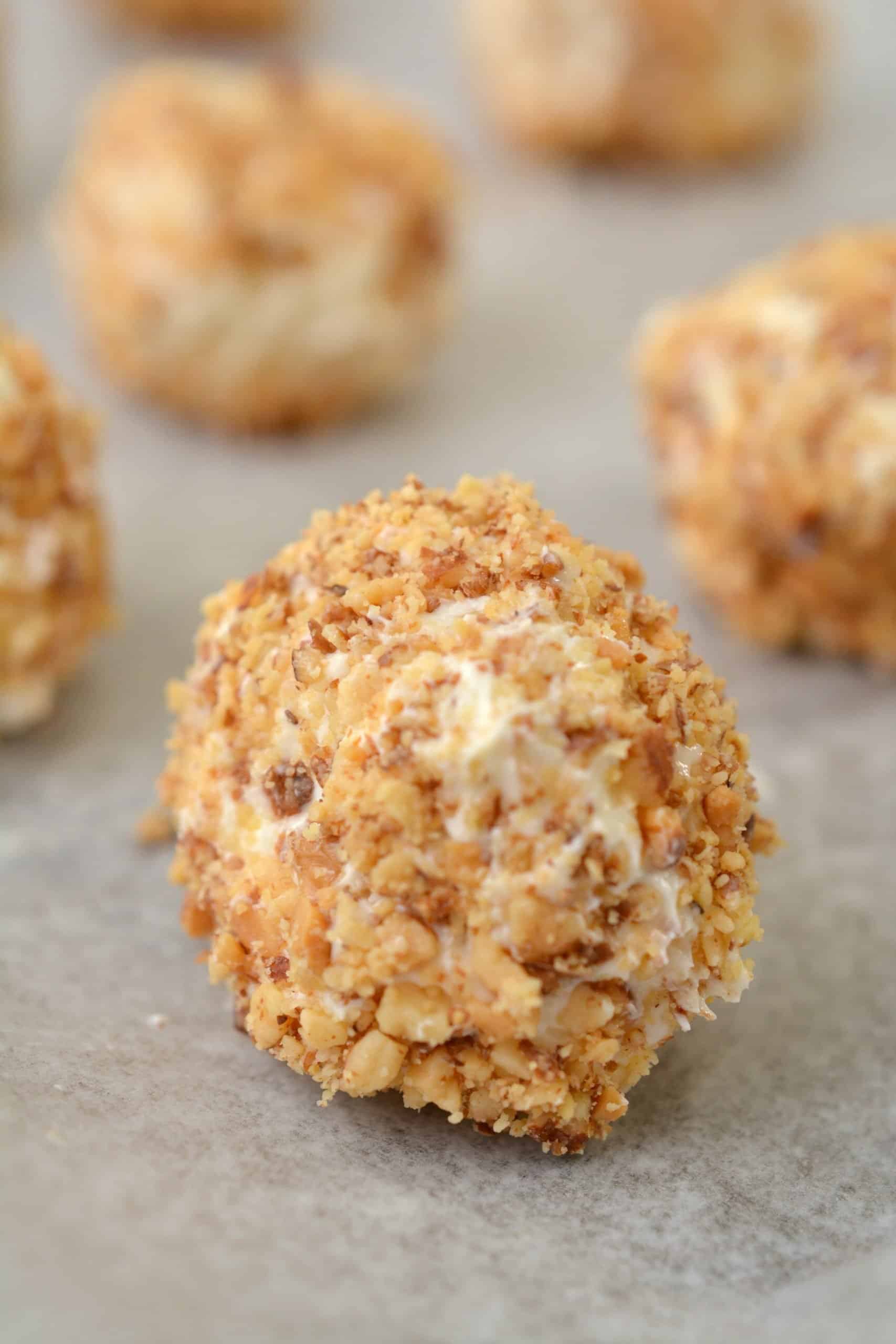 How To Make Keto Creamy Short Bread Fat Bombs:
Step 1. Use a stand mixer to blend butter and cream cheese until fluffy and smooth.
Step 2. Add your preferred keto sweetener. Start with 1 tablespoon and adjust to your preference.
Step 3. Mix in vanilla extract and almond extract.
Step 4. Use your hands to mold the dough into balls with approximately 1 tablespoon of dough. Roll in finely chopped almonds.
Step 5. Place on a baking sheet covered with parchment paper and then place in the freezer for 2 hours.
Step 6. Store keto fat bombs in the freezer in an airtight container.
Enjoy!
Are keto fat bombs really healthy?
Yes, keto fat bombs are part of a healthy, balanced keto diet. That said, they're not something you need to eat several times a day every day but when you enjoy one a day or even a few days a week to increase your fat content and/or take care of a sweet tooth, they're perfect.
How should I store keto fat bombs?
Keto fat bombs, including this keto shortbread fat bomb, should be stored in the freezer in an airtight container. I find them best when stored for up to 10 days.
Now, remember to save this recipe on Pinterest for later 🙂
Keto Creamy Short Bread Fat Bombs
Keep these Keto Creamy Shortbread Fat Bombs in the freezer for the days you're craving something sweet and creamy!
Ingredients
8 tbsp. Unsalted butter softened
4 oz. Cream cheese softened
1 tbsp. Erythritol or other keto approved sweetener
1 ½ tsp. Vanilla extract
1 tsp. Almond extract
¼ c. Finely chopped almonds
Instructions
Begin by placing your softened butter and cream cheese into a mixing bowl. Use a stand mixer to blend the two ingredients together until they are fluffy and smooth.
Add 1 tablespoon of erythritol or your choice of other keto-approved sweetener to the bowl, and blend well. You can taste the mixture at this point and add more sweetener if you desire.
Pour in 1 ½ teaspoon of vanilla extract, and 1 teaspoon of almond extract. Mix the ingredients until well blended.
Place a tablespoon of the mixture into your hands and try to form it into a ball (it will be sticky). Roll the ball of the mixture into a pile of finely chopped almonds, coating the outside all around.
Place the prepared fat bombs onto a baking sheet that is covered in wax or parchment paper. Place them into the freezer for at least 2 hours.
Store the fat bombs in the freezer in an airtight container until ready to consume.
Nutrition Information
Amount Per Serving
Calories

0
Total Fat

0g
Saturated Fat

0g
Trans Fat

0g
Unsaturated Fat

0g
Cholesterol

0mg
Sodium

0mg
Carbohydrates

0g
Fiber

0g
Sugar

0g
Protein

0g
Check out these other keto fat bomb recipes: